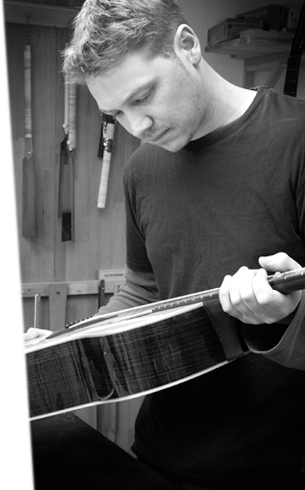 Tino Battiston 

Born in 19th August 1979 in Dillingen-Saar (Germany). He learns to play the guitar at 6 years old. Very young, he discovered his true vocation, Guitar Maker!
In 1997, Tino started his education in woodwork as cabinet maker, as there were'nt any musical instrument making school around. Patiently working and developping his new skills for several years and travelling overseas for 2 years, then the ultimate (Most desired) opportunity (emerged, arised, showed up...), becaming a guitar Maker (Luthier). From 2004, step by step he works and studies the Art of guitar making beside the Master guitar Maker Kazuo Sato. The dream becomes reality! Three years later, Tino lives the dream by opening his own company in Rehlingen-Siersburg and finally building his very own guitars.
Very quickly, guitarists recognized the meaningful value of Tino's craftsmanship. (1phrase manquante). Playability and acoustic properties are the main ingredients, for Tino, to compose the customer's wishes. The authentic Battiston's energy remains in every guitars!
PHILOSOPHIE
The finely selected and maturely seasonned wood are inevitably a big part (definition) of the sound quality. But the true art is to give a soul to the instrument ! Love of the craft and the attention to details have the major role. Then, up to the guitar players to bring this soul to life.
"... I'm quite nervous to hear the very first notes and emotions from one of my guitar and start its new life under my own hands ..."